Exploring Bhubaneswar:
A Tapestry of History, Culture, and Natural Splendor
Welcome to Bhubaneswar, the resplendent capital of Odisha, India. This captivating city is renowned as the "Temple City of India," boasting an enchanting blend of ancient temples, monuments, and scenic landscapes that paint a vivid picture of its glorious past. Embark on a virtual tour with us as we unveil the most captivating attractions, transportation options, and accommodation choices in Bhubaneswar. Sit back, relax, and immerse yourself in the ethereal beauty of this remarkable city.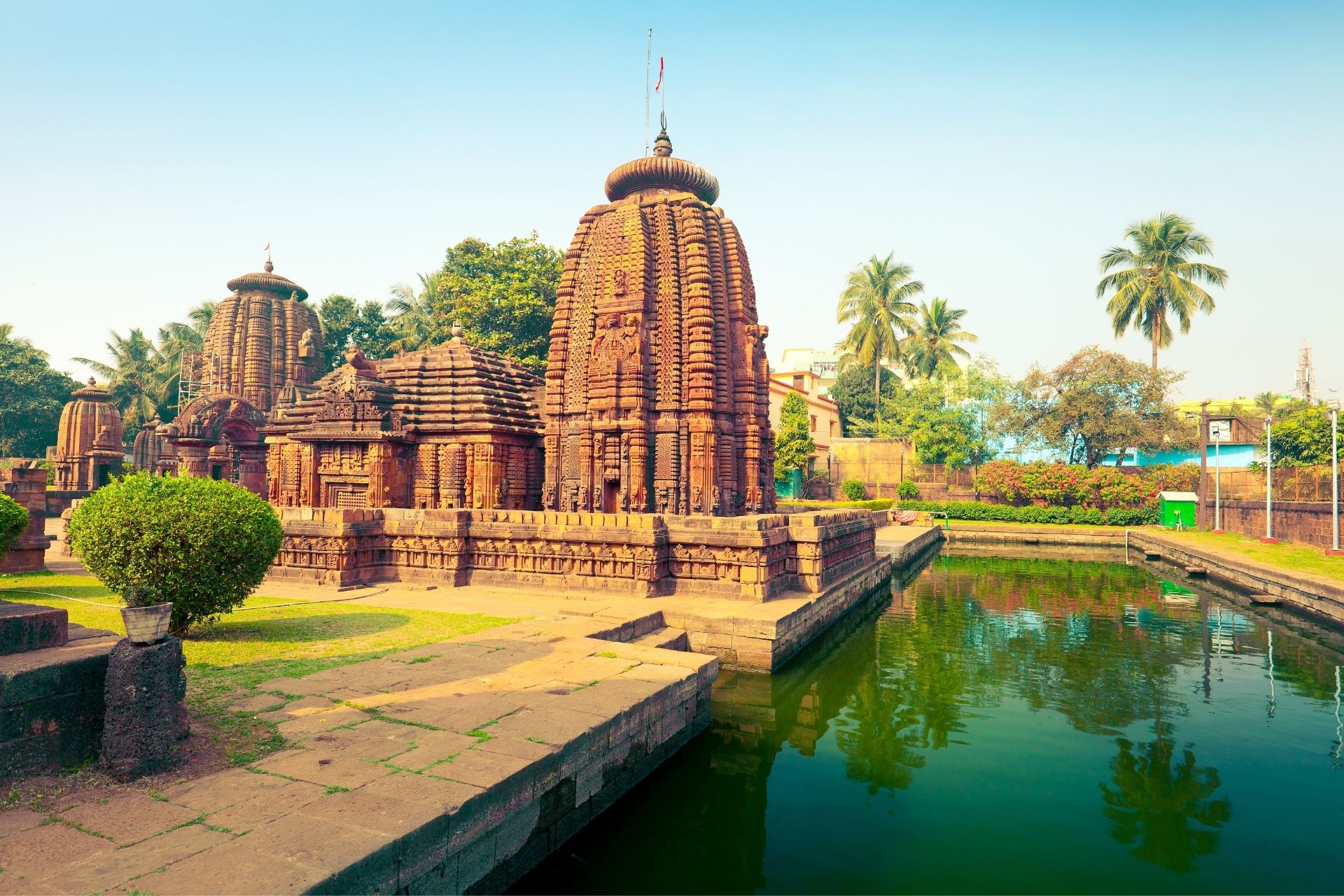 Tourist Destinations: A Spiritual Sojourn
Among the most revered temples in Bhubaneswar stands the magnificent Lingaraj Temple, a divine abode dedicated to Lord Shiva. Dating back to the 11th century, this architectural marvel exemplifies the splendor of Kalinga craftsmanship. Venture into the temple complex to witness the daily rituals and offerings to Lord Shiva while marveling at the intricate carvings and sculptures adorning its sacred walls.
Another jewel of ancient Kalinga architecture awaits your discovery at the Mukteswara Temple. Built in the 10th century, this temple pays homage to Lord Shiva and captivates visitors with its stunning carvings and sculptures. Don't miss the Torana, an arched gateway adorned with intricate carvings of animals and mythical creatures, which serves as a grand entrance to this spiritual haven.
A true architectural marvel, the RajaRani Temple, constructed in the 11th century, stands as a testament to the artistic prowess of the bygone era. Although not dedicated to any specific deity, the temple boasts captivating carvings of Lord Shiva and Parvati on its walls. Explore the temple's intricate depictions of female dancer figures, animals, and exquisite floral motifs, an ode to the creative brilliance of ancient artisans.
4

Udayagiri and Khandagiri Caves:
Step into a world of wonder at the Udayagiri and Khandagiri Caves, a series of rock-cut caves meticulously crafted by Jain monks in the 2nd century BC. Adorned with breathtaking sculptures and carvings, these caves bear immense historical significance and serve as a testament to the region's rich heritage.
For enthusiasts of Odisha's vibrant history and culture, a visit to the Odisha State Museum is an absolute must. Delve into the past as you explore its extensive collection of artifacts, including ancient sculptures, coins, and paintings. The museum offers a captivating journey through the captivating tapestry of Odisha's heritage.
Discover serenity at Dhauli Hill, a sacred Buddhist site believed to be the location where Emperor Ashoka embraced Buddhism after the Kalinga War. Explore the tranquil Buddhist shrines and monuments that dot the hill while indulging in breathtaking panoramic views of the surrounding countryside
Devotees of Lord Krishna will find solace at the ISKCON Temple in Bhubaneswar. This divine haven offers daily aarti rituals and a multitude of spiritual activities and events organized by the temple authority.
Explore Bhubaneswar with a Trusted Travel Partner: Ecsels Holidays
When planning your trip to Bhubaneswar, look no further than Ecsels Holidays, the most reliable tour and travel agency in the city. We have earned the trust of discerning travelers and are committed to providing exceptional service. Discover the enchanting city of Bhubaneswar with our carefully curated tour packages.
Beyond Bhubaneswar: Captivating Nearby Destinations
In addition to the renowned tourist attractions within Bhubaneswar, there are several captivating places nearby that are worth exploring. Here are some of the top destinations to visit near Bhubaneswar:
Situated approximately 60 kilometers from Bhubaneswar, Puri is a popular coastal destination in Odisha. Known for the revered Lord Jagannath Temple, one of the four major Hindu pilgrimage sites, Puri also boasts a magnificent beach with crystal-clear waters and golden sands.
Located around 70 kilometers from Bhubaneswar, Chilika Lake is India's largest coastal lagoon. This brackish-water lagoon is a haven for diverse flora and fauna, including migratory bird species. Take a boat ride to witness the famous Kalijai temple and explore the surrounding islands.
Just 25 kilometers north of Bhubaneswar, Cuttack is renowned for its rich culture, art, and architecture. Known as the "Silver City of India," Cuttack offers attractions such as the historic Barabati Fort, Chandi Temple, the Netaji Birthplace Museum, and the serene Ansupa Lake.
Entertainment and Shopping Delights in Bhubaneswar
Bhubaneswar not only captivates with its historical and natural attractions but also offers a range of entertainment and shopping options for visitors. Here are some of the finest shopping and entertainment areas in Bhubaneswar:
Immerse yourself in the vibrant ambiance of Ekamra Haat, a traditional handicraft market in Bhubaneswar. This marketplace showcases a diverse array of handcrafted products, including textiles, pottery, jewelry, and paintings, skillfully created by local artisans. On special occasions, enjoy live cultural performances while indulging in your shopping desires.
Indulge in a delightful shopping experience at Esplanade One Mall, the largest shopping mall in Bhubaneswar. Offering a wide selection of national and international brands, the mall also features a multiplex cinema and a food court serving delectable cuisines from around the world.
For an exhilarating adventure, visit Nicco Park, a popular amusement park in Bhubaneswar. This vibrant destination offers a range of thrilling rides and attractions for both children and adults, including roller coasters, water rides, and a Ferris wheel.
Sports enthusiasts should not miss a visit to Kalinga Stadium, a versatile sports arena in Bhubaneswar. As the home ground for the Odisha FC football team, this stadium has also hosted prestigious international sporting events such as the Hockey World Cup.
5

Nandankanan Zoological Park::
Nature enthusiasts and animal lovers are in for a treat at the Nandankanan Zoological Park. Home to a diverse array of wildlife, including majestic tigers, regal lions, gentle elephants, and awe-inspiring crocodiles, this park offers a remarkable opportunity to observe these creatures in their natural habitats. Embark on a safari ride to get up close and personal with the magnificent residents of the park.
For budget-conscious shoppers, the bustling Unit-1 Market in Bhubaneswar is a must-visit. Here, you'll find a variety of clothing, accessories, and home decor items at affordable prices. This lively market caters to your shopping desires without straining your wallet.
Bhubaneswar presents a diverse range of accommodation options catering to every budget and preference. In addition to our three properties located within the city, we proudly offer two exquisite properties in Puri. Our accommodations epitomize comfort and convenience, boasting amenities such as power backup, round-the-clock CCTV surveillance, fully equipped kitchens, 24-hour security, and a range of modern appliances including washers, dishwashers, refrigerators, microwaves, cable TVs, air conditioners, water purifiers, and even firefighting equipment. Nestled in residential areas just 500 meters away from commercial centers, our properties offer the perfect balance of tranquility and accessibility. Our dedicated team of housekeepers ensures your stay is nothing short of exceptional.
In a nutshell, every visitor to Bhubaneswar can expect a delightful experience thanks to the city's abundance of captivating attractions. This vibrant city has something special in store for you, whether your interests lie in exploring ancient temples and architectural wonders or enjoying modern entertainment centers. Make Bhubaneswar a part of your itinerary if you're traveling to Odisha, and set out on a journey of discovery. Check out our exclusive Bhubaneswar tour packages and book your next trip to this extraordinary city with us.