Exploring Gopalpur Beach:
A Tapestry of History, Culture, and Natural Splendor
Gopalpur Beach, encircled by the unspoiled coastline of Odisha, India, is an intriguing spot that captivates visitors with its tranquility and rich cultural history. This lovely beach town offers a peaceful retreat from the city's hustle and bustle, attracting visitors who are seeking adventures, unwinding, and exploring the intriguing past of the region.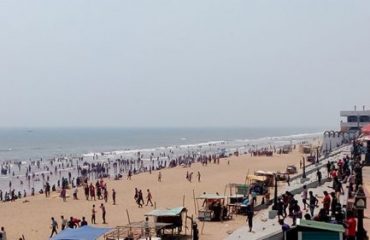 Things to do on the Gopalpur beach tour
1 Explore the Gopalpur Lighthouse, proudly standing tall offering a stunning panorama of the blue ocean and the charming town that lies beneath.
2 Pay a visit to the remains of an ancient Dutch house, a reminder of Gopalpur's maritime heritage that provides an intriguing insight into the history of the region.
3 Take a stroll along streets full of Colonial-era structures that exude a vintage vibe.
4 Explore the exquisite Rushikulya Turtle Sanctuary, a breeding ground for Olive Ridley turtles. This location is an absolute must for wildlife lovers and activists.
5 Gopalpur Beach is home to a variety of exciting water activities such as jet skiing, surfing, and riding banana boats. You can enjoy a relaxing boat trip in the tranquil waters of the ocean, see beautiful sunsets and breathe in the gentle sea breeze.
6 Finally, have fun playing beach volleyball or building sandcastles with your loved ones. The place also provides the ideal backdrop for a romantic stroll hand in hand along the shoreline
Our Gopalpur beach tour package includes
Look no further than Ecsels Holidays if you are planning a Gopalpur beach tour and need a reliable travel companion. We are the best tour and travel agency in Gopalpur, trusted by many discerning travelers.
Places for amusement and shopping
1 Beyond its sandy shores, Gopalpur Beach's charming and lively local market serves as an excellent shopping destination for tourists, providing an extensive selection of handicrafts, traditional handlooms, and seashell items.
2 The beach's lively atmosphere and its vibrant stalls provide a wonderful opportunity to learn about the state's diverse cultures. You can also explore the bustling beachside marketplace and indulge in the local cuisine or seafood delicacies at the beachside stalls.
Gopalpur offers tourists a variety of accommodations, ranging from luxurious beachside resorts to amazing nature camps and eco retreats. According to your requirements, you can book accommodations at nearby luxury resorts, eco retreats, or affordable nature camps and homestays.
To sum up, Gopalpur Beach provides an idyllic retreat for those looking for a beach vacation. Whether you're a nature enthusiast, an adventure seeker, or just want to relax in the lap of nature, Gopalpur Beach has something to offer everyone. So prepare to board a magical journey to Gopalpur Beach. And, for a truly unforgettable adventure, explore our thoughtfully curated Gopalpur beach tour package and embark on your magical adventure now!